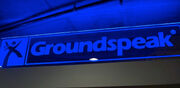 The Geocaching Block Party is an annual mega event hosted by Groundspeak at their HQ in Washington. At the event you can find the official Head Quarters geocache, get some food and socialize. You are also able to take a tour of of their HQ. 
The original block party was held July 4th, 2010.  It was held in conjunction with GeoWoodstock VIII head the day before, and was touted as a Lost & Found event to celebrate the tenth anniversary of Geocaching.
The end of Block Parties

[

]
August 15th, 2015 was the last block party. According to Geocaching.com :
Why was 2015 the last Block Party?
[
]
The Geocaching Block party was originally intended to be a one-time event here in Seattle to mark the 10th anniversary of Geocaching. We had so much fun at the first event, we keep doing it for 5 years. As Geocaching keeps growing around the world, it is important that we focus our priorities on projects that can bring enjoyment to the entire community. As much as we have enjoyed hosting the HQ Block Party in Seattle, it is now time to sunset this event.
More Information

[

]
Find out more at the official Geocaching block party website. 
http://www.geocachingblockparty.com/