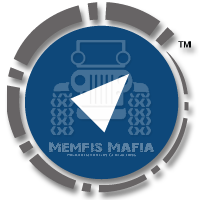 We are the Memfis Mafia . We are a family that likes getting outdoors and this lends well to the hobby of geocaching. Our outdoor adventures take many forms – traveling, off roading, hiking, skydiving but mostly we end up with what we like to call our misadventures in geocaching. In an attempt to chronicle some of these crazy adventures we (semi)regularly write on our family blog entitled Memfis Mafia - a family in search of adventure.
The logo to the right is our family/team logo that we designed with the idea of bringing this whole crazy hobby together. While designed for geocaching, we have now used this logo in its many forms for everything from 5K races to trivia nights.
Feel free to pop over there and check out some of those stories. While many of our adventures start with geocaching they often end in interesting and unexpected ways. Hopefully, the stories of our mistakes will help you not repeat the same blunders. Even better, we hope that our stories of the fun we have had will inspire you to get out there with your families and friends. From time to time we like to hide things on the blog like puzzle hints and trackable codes.
Our philosophy on finding geocaches:
Edit
Our family is made up of husband, wife and two daughters. We each have our own preference when it comes to our favorite type of geocaching adventures. Fortunately for us, we are all open to trying new things and therefore end up going after every type of cache from a quick park and grab in a parking lot to a multi-day hiking adventure. Combine this with our love for travel and we end up with a fairly varied array of geocaching experiences. Keeping that in mind, we like all types and support others who do as well. We do not participate in the "one cache type is better than others" debate as it is a waste of time. We love geocaching but have not lost sight of the fact that it is still just a game. Don't let numbers ruin your game.
Our philosophy on hiding geocaches:
We have come to enjoy hiding geocaches almost as much as finding them. We started out, like most others, by hiding traditional caches. Then we expanded into mystery, multi, and letterboxes. This is where most people stop because of the difficulty in constructing the rest of the types, namely Wherigos and Earthcaches. These two types are byfar the most underrepresented in geocaching and we have since learned why. The process fro programming a Wherigo or researching for an Earthcache are easily tenfold that of a traditional geocache. The good this is that they are proportionally rewarding. 
While we truly enjoy constructing, publishing, and reading the comments from cachers - we realize we are not perfect and neither are our caches. We make mistakes and we learn from them. We are not afraid to scrap a geocache and go back to the drawing board. Here are our current active geocaches:
Our philosophy on events:

Edit
Events are defined by geocaching.com as a gathering of geocachers, to facilitate the social aspect of geocaching. Events are what hooked us on geocaching because we met so many great people in an area where we knew virtually none. We were accepted in to the fold graciously and now we try to do the same for others new to the game or area. Events are easy to host yet some tend to shy away from them. Luckily for us, we love hosting events and are constantly striving to help others become more comfortable with hosting their own. We also like to come up with new ideas for events, be it hiking events, various workshops, or traveling events. So far, people have enjoyed the events we have come up with so we are going to try and continue to be just as creative in the future. 
Geocoins and Travel Bugs:
Travelbugs are another cool concept on geocaching that can make for a fun time with the kids. Once you have discovered a trackable you can from then on watch its travels around the globe. Some of the trackables we have come across have circumnavigated the globe many times. Others have odd goals and still others tell funny stories about the owners. Trackable items come some in many different froms and sizes from a tiny marble all the way up to a human, like me. Yes, I made the plunge and have permanently etched my love for the game on my left calf. If we meet in person you can log me and get a special icon for your profile. We like to share our trackables and we also like to have fun at the same time. In that spirit, there are trackable numbers hidden on this profile page as well as within our cache pages. If you locate them, you are free to discover them. 

Community content is available under
CC-BY-SA
unless otherwise noted.