Wherigo is a location-based adventure game.

Description
[
]
"Wherigo is a toolset for creating and playing GPS-enabled adventures in the real world. Use GPS technology to guide you to physical locations and interact with virtual objects and characters."[1]
Wherigo was first conceived by Groundspeak founders Jeremy Irish and Elias Alvord as a way to intergrate video games into the geocaching experience. Using
a Wherigo-enabled GPS device, users can interact with story elements while moving through a real world location. Wherigo's are similar in design to multicaches. Instead of finding a physical container at each stage with coordinates leading to the next stage, a Wherigo will have some kind of action to perform when the user reaches each location. Correct completion of the action will grant the user the ability to move on to the next stage, eventually completing the Wherigo cartridge. All of this done virtually using a Wherigo-enabled GPS device.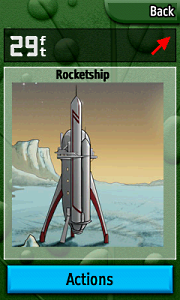 Wherigo-enabled GPS Devices
[
]
Currently, the number of platforms available that can play a Wherigo cartridge are limite d. The following devices can currently play a Wherigo cartridge:
Garmin Colorado GPSr
Garmin Oregon GPSr
A GPS-enabled Pocket PC with Microsoft Compact .NET Framework 2.0 installed
A GPS-enabled Windows Mobile phone
A GPS-enabled Android 1.6 or later phone
Most iOs devices such as iPhone and iPad
Technically speaking, all you need is a platform that has a GPS and supports C programming language can run the required software. A topic on the Groundspeak forums addresses verified hardware for running a Wherigo cartridge.

Newest Wherigo icon:

Wherigo Cache
[
]
A Wherigo cache is a geocache that involves completion of a Wherigo cartridge.
References
[
]
<references>